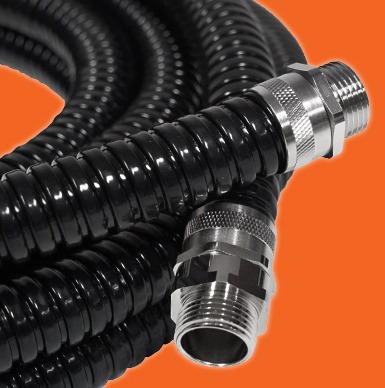 PVC Covered Steel Range
The PVC covered steel range is designed to provide high mechanical protection in a highly flexible format. C-Series can be used in a wide range of dynamic and static applications as well as commercial and industrial environments.
A unique vacuum extrusion process allows C-Series to have a thin PVC jacket, which does not restrict the excellent flexibility characteristics of the galvanised steel inner core and also offers a degree of weatherproofing.
Temperature Range:
-20°C to +70°C
Material:
Galvanised steel core with PVC (polyvinyl chloride) jacket
Colour:
Black
Ingress Protection:
IP54 with standard fittings
IP65 with IP rated fittings
Other Information:
Oil/Sunlight Resistant
High Mechanical Strength
Manufactured to BS EN 61386
Want to learn more about our PVC Steel Range? Fill in the form below!
| Product Code | Trade Size | Description | Internal Diameter | External Diameter | Bending Radius | Coil Size |
| --- | --- | --- | --- | --- | --- | --- |
| C10-50M | 10mm | 10mm PVC Covered Steel Flexible Conduit | 7.0mm | 10.0mm | 35mm | 50m |
| C12-50M | 12mm | 12mm PVC Covered Steel Flexible Conduit | 10.0mm | 14.0mm | 40mm | 50m |
| C16-50M | 16mm | 16mm PVC Covered Steel Flexible Conduit | 13.0mm | 17.0mm | 50mm | 50m |
| C20-50M | 20mm | 20mm PVC Covered Steel Flexible Conduit | 17.0mm | 21.5mm | 65mm | 50m |
| C25-50M | 25mm | 25mm PVC Covered Steel Flexible Conduit | 21.0mm | 26.0mm | 75mm | 50m |
| C32-50M | 32mm | 32mm PVC Covered Steel Flexible Conduit | 28.0mm | 34.0mm | 100mm | 50m |
| C40-30M | 40mm | 40mm PVC Covered Steel Flexible Conduit | 37.6mm | 44.5mm | 125mm | 30m |
| C50-30M | 50mm | 50mm PVC Covered Steel Flexible Conduit | 48.5mm | 55.0mm | 175mm | 30m |
| C70-10M | 70mm | 70mm PVC Covered Steel Flexible Conduit | 62.5mm | 74.0mm | TBC | 10m |
| C80-10M | 80mm | 80mm PVC Covered Steel Flexible Conduit | 73.5mm | 85.0mm | TBC | 10m |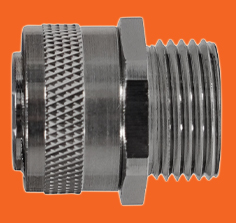 Fittings up to 50mm:
Material: Nickel Plated Brass
2 Part Fitting (Shell & Body)
IP54
IP54 Nickel Plated Brass Fixed Fittings
| Product Code | Description | Conduit Size | Thread Size | Pack Size |
| --- | --- | --- | --- | --- |
| CF10 | 10mm Nickel Plated Brass Fixed Fitting | 10mm | M12 x 1.5mm | 10 |
| CF12 | 12mm Nickel Plated Brass Fixed Fitting | 12mm | M16 x 1.5mm | 10 |
| CF16 | 16mm Nickel Plated Brass Fixed Fitting | 16mm | M16 x 1.5mm | 10 |
| CF16-20 | 16mm Nickel Plated Brass Fixed Fitting | 16mm | M20 x 1.5mm | 10 |
| CF20 | 20mm Nickel Plated Brass Fixed Fitting | 20mm | M20 x 1.5mm | 10 |
| CF25 | 25mm Nickel Plated Brass Fixed Fitting | 25mm | M25 x 1.5mm | 10 |
| CF32 | 32mm Nickel Plated Brass Fixed Fitting | 32mm | M32 x 1.5mm | 10 |
| CF40 | 40mm Nickel Plated Brass Fixed Fitting | 40mm | M40 x 1.5mm | 2 |
| CF50 | 50mm Nickel Plated Brass Fixed Fitting | 50mm | M50 x 1.5mm | 2 |
| CF70-M76 | 70mm (M76 Thread) Galv. Zinc 4-Part Fitting | 70mm | M76 x 2.0mm | 1 |
| CF80-M88 | 80mm (M88 Thread) Galv. Zinc 4-Part Fitting | 80mm | M88 x 2.0mm | 1 |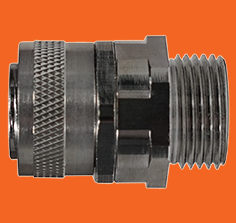 Material: Nickel Plated Brass
2 Part Fitting (Shell & Body)
IP54
IP54 Nickel Plated Brass Swivel Fittings
| Product Code | Description | Conduit Size | Thread Size | Pack Size |
| --- | --- | --- | --- | --- |
| CF10S | 10mm Nickel Plated Brass Swivel Fitting | 10mm | M12 x 1.5mm | 10 |
| CF12S | 12mm Nickel Plated Brass Swivel Fitting | 12mm | M16 x 1.5mm | 10 |
| CF16S | 16mm Nickel Plated Brass Swivel Fitting | 16mm | M16 x 1.5mm | 10 |
| CF16-20S | 16mm Nickel Plated Brass Swivel Fitting | 16mm | M20 x 1.5mm | 10 |
| CF20S | 20mm Nickel Plated Brass Swivel Fitting | 20mm | M20 x 1.5mm | 10 |
| CF25S | 25mm Nickel Plated Brass Swivel Fitting | 25mm | M25 x 1.5mm | 10 |
| CF32S | 32mm Nickel Plated Brass Swivel Fitting | 32mm | M32 x 1.5mm | 10 |
| CF40S | 40mm Nickel Plated Brass Swivel Fitting | 40mm | M40 x 1.5mm | 2 |
| CF50S | 50mm Nickel Plated Brass Swivel Fitting | 50mm | M50 x 1.5mm | 2 |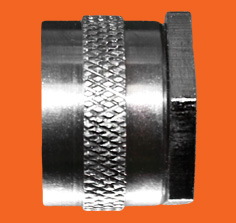 Material: Nickel Plated Brass
2 Part Fitting (Shell & Body)
IP54
Nickel Plated Brass Plain Hole/Box Fittings
| Product Code | Description | Conduit Size | Thread Size | Pack Size |
| --- | --- | --- | --- | --- |
| CF10P | 10mm Nickel Plated Brass Plain Hole Fitting | 10mm | n/a | 10 |
| CF12P | 12mm Nickel Plated Brass Plain Hole Fitting | 12mm | n/a | 10 |
| CF16P | 16mm Nickel Plated Brass Plain Hole Fitting | 16mm | n/a | 10 |
| CF20P | 20mm Nickel Plated Brass Plain Hole Fitting | 20mm | n/a | 10 |
| CF25P | 25mm Nickel Plated Brass Plain Hole Fitting | 25mm | n/a | 10 |
| CF32P | 32mm Nickel Plated Brass Plain Hole Fitting | 32mm | n/a | 10 |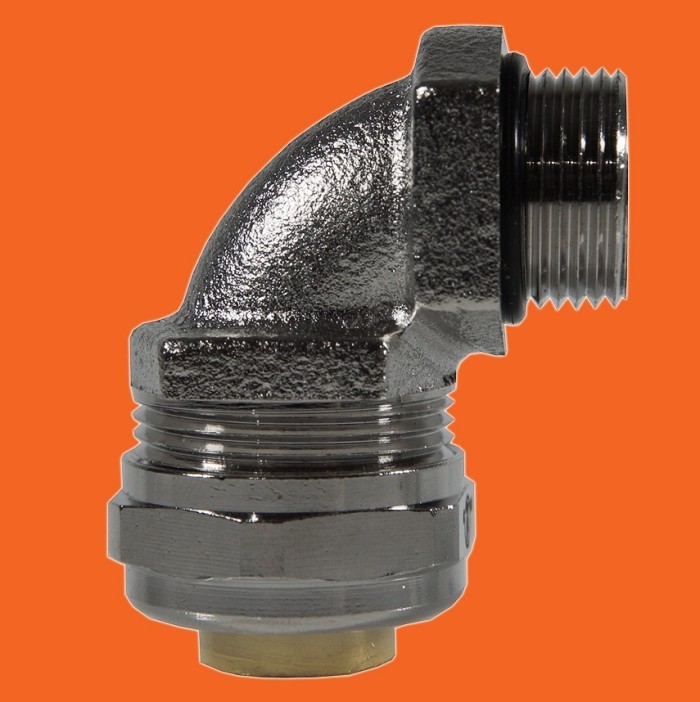 Material: Nickel Plated Brass
4 Part Fitting (Shell, Olive, Ferrule & Body)
IP65
IP65 Nickel Plated Brass 90deg Elbow Fittings
| Product Code | Description | Conduit Size | Thread Size | Pack Size |
| --- | --- | --- | --- | --- |
| CF16E90 | 16mm IP65 90deg Elbow Nickel Plated Brass Fitting | 16mm | M16 x 1.5mm | 10 |
| CF20E90 | 20mm IP65 90deg Elbow Nickel Plated Brass Fitting | 20mm | M20 x 1.5mm | 10 |
| CF25E90 | 25mm IP65 90deg Elbow Nickel Plated Brass Fitting | 25mm | M25 x 1.5mm | 10 |
| CF32E90 | 32mm IP65 90deg Elbow Nickel Plated Brass Fitting | 32mm | M32 x 1.5mm | 5 |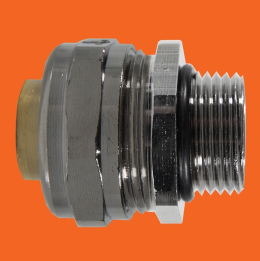 Material: Nickel Plated Brass
4 Part Fitting (Shell, Olive, Ferrule & Body)
IP65
IP65 Nickel Plated Brass Straight Fixed Fittings
| Product Code | Description | Conduit Size | Thread Size | Pack Size |
| --- | --- | --- | --- | --- |
| CF16-IP65 | 16mm IP65 Fixed Nickel Plated Brass Fitting | 16mm | M16 x 1.5mm | 10 |
| CF20-IP65 | 20mm IP65 Fixed Nickel Plated Brass Fitting | 20mm | M20 x 1.5mm | 10 |
| CF25-IP65 | 25mm IP65 Fixed Nickel Plated Brass Fitting | 25mm | M25 x 1.5mm | 10 |
| CF32-IP65 | 32mm IP65 Fixed Nickel Plated Brass Fitting | 32mm | M32 x 1.5mm | 5 |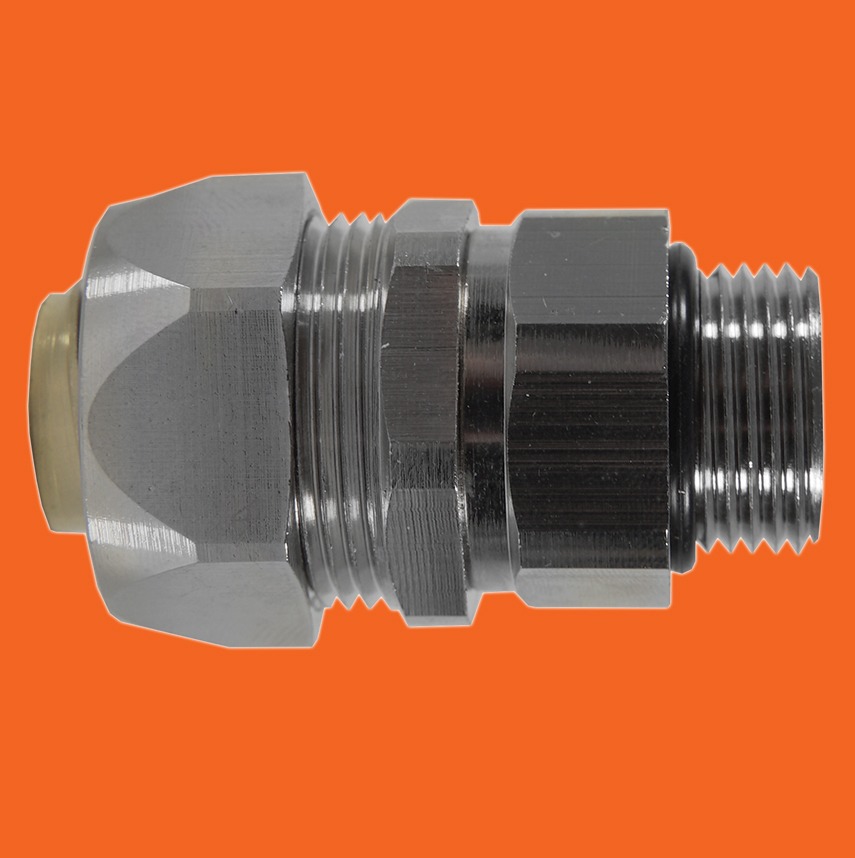 Material: Nickel Plated Brass
4 Part Fitting (Shell, Olive, Ferrule & Body)
IP65
IP65 Nickel Plated Brass Straight Swivel Fittings
| Product Code | Description | Conduit Size | Thread Size | Pack Size |
| --- | --- | --- | --- | --- |
| CF16S-IP65 | 16mm IP65 Swivel Nickel Plated Brass Fitting | 16mm | M16 x 1.5mm | 10 |
| CF20S-IP65 | 20mm IP65 Swivel Nickel Plated Brass Fitting | 20mm | M20 x 1.5mm | 10 |
| CF25S-IP65 | 25mm IP65 Swivel Nickel Plated Brass Fitting | 25mm | M25 x 1.5mm | 10 |
| CF32S-IP65 | 32mm IP65 Swivel Nickel Plated Brass Fitting | 32mm | M32 x 1.5mm | 5 |