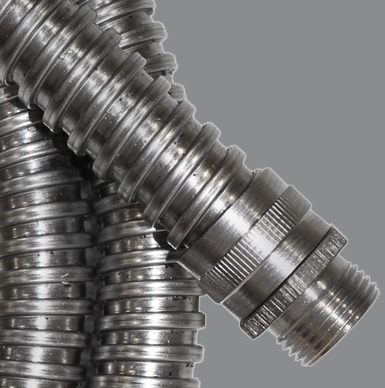 Stainless Steel Range
A flexible conduit is the ultimate way to keep your cables in an organised manner so the surrounding area can be protected from bare wires and trip hazards. To give our customers the safety and security they deserve, we provide the very best here at Flex-It, including our stainless steel range that is available on site now!
We are lucky to offer the finest selection of products to our customers, with this stainless steel conduit at the heart of our service. The SS-Series is a highly flexible stainless steel conduit that provides an excellent level of mechanical and chemical protection for cables. This will ultimately give you the peace of mind that your cables are safe and, as such, the machines they are connected to will continue to function at a high level.
show more

They are also the perfect solution for cables in applications that require a high degree of corrosion protection, but where protection from ingress of water is not required. With their temperature range sitting at -45°C to +400°C, you can be assured that this material is perfect for the job. The flexible stainless steel conduit range on offer from Flex-It is more than durable enough to cope in the most challenging of environments.

These stainless steel conduit products are known for their versatility, as they are found in many applications that span a number of industrial fields. The most popular of these uses are in the steel, foundry, marine and shipbuilding industries. A flexible stainless steel conduit is also the ideal choice for outer casting for temperature measuring devices and sensitive fibre optics.

As you can tell, the use of a stainless steel conduit shouldn't be understated as it performs a vital role in ensuring the peak condition of many kinds of machinery. If you would like to find out more about our stainless steel range, then be sure to fill out the form below and one of our experts will be in touch as soon as possible. You can also give us a call on 01530 812195 if you are more comfortable with this or drop us an email at sales@flex-it.co.uk.

show less
Temperature Range:
-45°C to +400°C
Material:
Stainless Steel (304)
Colour:
Self coloured
Ingress Protection:
IP40
Compression Strength:
1250 N
Impact Strength:
6 J
Tensile Strength:
500 N
Other Information:
Low Fire Hazard
Manufactured to BS EN 61386
Want to learn more about our Stainless Steel Range? Fill in the form below!
| Product Code | Trade Size | Description | Internal Diameter | External Diameter | Coil Size |
| --- | --- | --- | --- | --- | --- |
| SS10 | 10mm | 10mm Stainless Steel (304) Flexible Conduit | 6.9mm | 9.0mm | 100m |
| SS16 | 16mm | 16mm Stainless Steel (304) Flexible Conduit | 13.0mm | 16.0mm | 50m |
| SS20 | 20mm | 20mm Stainless Steel (304) Flexible Conduit | 17.0mm | 20.5mm | 50m |
| SS25 | 25mm | 25mm Stainless Steel (304) Flexible Conduit | 21.0mm | 25.0mm | 50m |
Other sizes are available to order, please enquire for further information.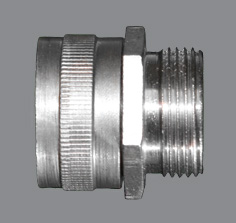 Material: Stainless Steel (304)
2 Part Fitting (Body & Shell)
IP40 when used with SS-Series conduit
Stainless Steel (304) Fixed Fittings
| Product Code | Description | Conduit Size | Thread Size | Pack Size |
| --- | --- | --- | --- | --- |
| SSF16 | 16mm Stainless Steel Fixed Fitting | 16mm | M16 x 1.5mm | 1 |
| SSF20 | 20mm Stainless Steel Fixed Fitting | 20mm | M20 x 1.5mm | 1 |
| SSF25 | 25mm Stainless Steel Fixed Fitting | 25mm | M25 x 1.5mm | 1 |