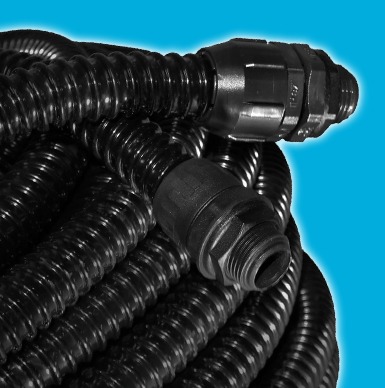 PVC Spiral Reinforced Range
A-Series is an advanced product that is ideal for all general purpose applications where durability and high flexibility is required. With an all PVC construction with spiral reinforcement, A-Series offers all-round protection and facilitates fast insertion of the cables (due to its smooth inner bore).
A-Series will not support combustion is self-extinguishing and offers a high ingress protection of IP65 on all fittings, which can be achieved without the use of any tools.
Temperature Range:
-15°C to +70°C (Static) , -5°C to +60°C (Moving)
Material:
Thermoplastic resin with polyvinyl chloride (PVC)
Colour:
Black (Light Grey available upon request)
Flame Resistance:
Self extinguishing within 30 seconds (UL94V0)
Ingress Protection:
IP65
Compression Strength:
320 N
Other Information:
UV Resistant, UL 1696
Manufactured to BS EN 61386
Want to learn more about our A-Series? Fill in the form below!
| Product Code | Trade Size | Description | Internal Diameter | External Diameter | Coil Size |
| --- | --- | --- | --- | --- | --- |
| A10-30M | 10mm | 10mm PVC Spiral Reinforced Flexible Conduit | 8.0mm | 12.4mm | 30m |
| A12-30M | 12mm | 12mm PVC Spiral Reinforced Flexible Conduit | 10.0mm | 14.6mm | 30m |
| A16-30M | 16mm | 16mm PVC Spiral Reinforced Flexible Conduit | 12.0mm | 16.2mm | 30m |
| A20-30M | 20mm | 20mm PVC Spiral Reinforced Flexible Conduit | 16.0mm | 20.2mm | 30m |
| A25-30M | 25mm | 25mm PVC Spiral Reinforced Flexible Conduit | 22.0mm | 26.3mm | 30m |
| A32-30M | 32mm | 32mm PVC Spiral Reinforced Flexible Conduit | 28.0mm | 33.0mm | 30m |
| A40-30M | 40mm | 40mm PVC Spiral Reinforced Flexible Conduit | 35.0mm | 40.2mm | 30m |
| A50-30M | 50mm | 50mm PVC Spiral Reinforced Flexible Conduit | 40.0mm | 45.3mm | 30m |
| A63-30M | 63mm | 63mm PVC Spiral Reinforced Flexible Conduit | 50.0mm | 56.0mm | 30m |
| A75-30M | 75mm | 75mm PVC Spiral Reinforced Flexible Conduit | 60.0mm | 66.4mm | 30m |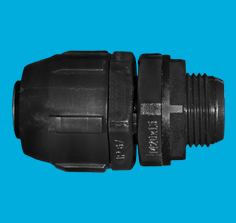 Locknuts included
2 Part Fitting (Body & Shell)
IP65
PVC Spiral Straight Fittings
| Product Code | Description | Conduit Size | Thread Size | Pack Size |
| --- | --- | --- | --- | --- |
| AF16 | 16mm PVC Straight Fitting c/w Locknut | 16mm | M16 x 1.5mm | 10 |
| AF20 | 20mm PVC Straight Fitting c/w Locknut | 20mm | M20 x 1.5mm | 10 |
| AF25 | 25mm PVC Straight Fitting c/w Locknut | 25mm | M25 x 1.5mm | 10 |
| AF32 | 32mm PVC Straight Fitting c/w Locknut | 32mm | M32 x 1.5mm | 10 |
| AF40 | 40mm PVC Straight Fitting c/w Locknut | 40mm | M40 x 1.5mm | 10 |
| AF50 | 50mm PVC Straight Fitting c/w Locknut | 50mm | M50 x 1.5mm | 10 |
| AF63 | 63mm PVC Straight Fitting c/w Locknut | 63mm | M63 x 1.5mm | 10 |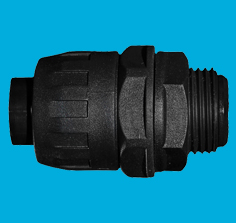 Locknuts included
Screw fit design
IP65
PVC Spiral One Piece Swivel Fittings
| Product Code | Description | Conduit Size | Thread Size | Pack Size |
| --- | --- | --- | --- | --- |
| AF16DS | 16mm PVC One Piece Swivel Fitting c/w Locknut | 16mm | M16 x 1.5mm | 10 |
| AF20DS | 20mm PVC One Piece Swivel Fitting c/w Locknut | 20mm | M20 x 1.5mm | 10 |
| AF25DS | 25mm PVC One Piece Swivel Fitting c/w Locknut | 25mm | M25 x 1.5mm | 10 |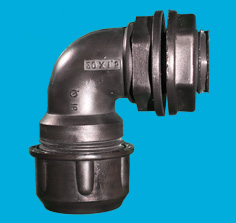 Locknuts included
3 Part Fitting (Shell, Olive, Body)
IP65
PVC Spiral 90deg Elbow Fittings
| Product Code | Description | Conduit Size | Thread Size | Pack Size |
| --- | --- | --- | --- | --- |
| AF16E | 16mm PVC 90deg Elbow Fitting c/w Locknut | 16mm | M16 x 1.5mm | 10 |
| AF20E | 20mm PVC 90deg Elbow Fitting c/w Locknut | 20mm | M20 x 1.5mm | 10 |
| AF25E | 25mm PVC 90deg Elbow Fitting c/w Locknut | 25mm | M25 x 1.5mm | 10 |
| AF32E | 32mm PVC 90deg Elbow Fitting c/w Locknut | 32mm | M32 x 1.5mm | 10 |