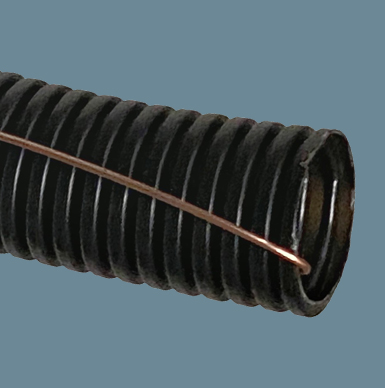 LSOH Polypropylene Corrugated Range with Draw-wire
Our black LSOH polypropylene flexible conduit with pre-installed copper draw-wire is designed to drastically reduce installation time and labour costs. No more threading wires manually; with our conduit, you can save valuable time and effortlessly ensure cable security. It's the ultimate choice for professionals looking to streamline installations while maintaining protection for their electrical cables. Often used in first fix electrical installations where cables need to be installed afterwards.
This conduit offers good durability, UV resistance and is the perfect choice for embedding into floors and walls. It's typically used for:
show more
Cable Assemblies
Underfloor Wiring
General Cable Tidying
Manufactured from polypropylene, this type of conduit is very lightweight and easy to use. It also has a tendency to sustain harsh environments and offers excellent chemical resistance. The polypropylene flexible conduit is non-corrosive which means it can withstand impacts and toxic materials that may pass through cables.

To complement the polypropylene corrugated conduit range, we have both hinged fittings to push-fit IP65 straight fittings, you needn't worry about finding what you need to secure and protect your essential wiring.

If you require more information about the polypropylene flexible conduit and fittings, you're more than welcome to get in touch. The Flex-It team is always on hand and happy to help, so please don't hesitate to drop us an email at sales@flex-it.co.uk. You can also call our experts on 01530 812 195, and we will gladly discuss your flexible conduit requirements further, over the phone.

show less
Temperature Range:
-40°C to +120°C
Material:
Polypropylene
Colour:
Black
Ingress Protection:
IP40 as standard
IP65 fittings available in 20mm & 25mm
LSOH:
Manufactured from LSOH polypropylene
Other Information:
UV Resistant
Want to learn more about our R-Series with draw-wire? Fill in the form below!
| Product Code | Trade Size | Description | Internal Diameter | External Diameter | Coil Size |
| --- | --- | --- | --- | --- | --- |
| R20BDW50 | 20mm | 20mm Black Polypropylene Corrugated Flexible Conduit | 16.8mm | 20.0mm | 50m |
| R20BDW100 | 20mm | 20mm Black Polypropylene Corrugated Flexible Conduit | 16.8mm | 20.0mm | 100m |
| R25BDW50 | 25mm | 25mm Black Polypropylene Corrugated Flexible Conduit | 19.9mm | 25.0mm | 50m |
| R32BDW50 | 32mm | 32mm Black Polypropylene Corrugated Flexible Conduit | 26.5mm | 32.0mm | 50m |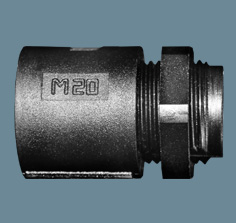 Locknuts included
Hinged/wrap around fitting
IP40
Black Polypropylene Hinged Fittings
| Product Code | Description | Conduit Size | Thread Size | Pack Size |
| --- | --- | --- | --- | --- |
| RF20B | 20mm Black Polypropylene Hinged Fitting c/w Locknut | 20mm | M20 x 1.5mm | 10 |
| RF25B | 25mm Black Polypropylene Hinged Fitting c/w Locknut | 25mm | M25 x 1.5mm | 10 |
| RF32B | 32mm Black Polypropylene Hinged Fitting c/w Locknut | 32mm | M32 x 1.5mm | 10 |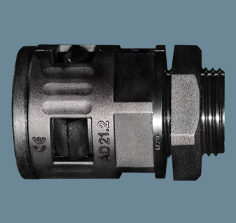 Locknuts included
Manufactured from PA6 Nylon
Push-fit design
IP65
Push-Fit IP65 Straight Fittings
| Product Code | Description | Conduit Size | Thread Size | Pack Size |
| --- | --- | --- | --- | --- |
| RF20BPF | 20mm Push-Fit Straight Fitting c/w Locknut | 20mm | M20 x 1.5mm | 10 |
| RF25BPF | 25mm Push-Fit Straight Fitting c/w Locknut | 25mm | M25 x 1.5mm | 10 |