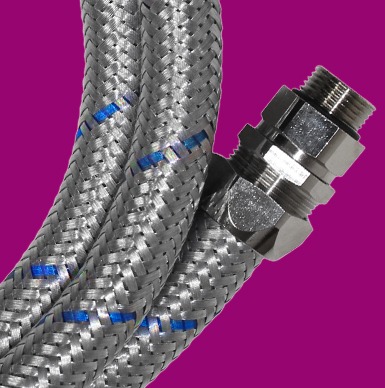 Steel Overbraided Range
Our steel overbraided conduit is best suited for tight spot installations where high protection is required against sparks and hot swarfs.
High mechanical strength with resistance to traction, torsion and compression make this product ideal for welding equipment and metal machinery.
This product also provides EMC screening.
The D-Series Liquid-Tight fittings fit this conduit range, please note that the IP rating (due to the steel overbraid) for the glands when used with this conduit is reduced to IP54.
Temperature Range:
-15°C to +70°C
Material:
PVC vacuum jacketed galvanised steel inner core with a protective galvanised steel over-braid
Ingress Protection:
IP54
Compression Strength:
> 1250 N
Traction Resistance:
> 1000 N
Other Information:
CE
Manufactured to BS EN 61386
| Product Code | Trade Size | Description | Internal Diameter | External Diameter | Bending Radius | Coil Size |
| --- | --- | --- | --- | --- | --- | --- |
| F12-30M | 12mm | 12mm Steel Overbraided Flexible Conduit | 10.0mm | 16.0mm | 40mm | 30m |
| F16-30M | 16mm | 16mm Steel Overbraided Flexible Conduit | 12.0mm | 17.5mm | 50mm | 30m |
| F20-30M | 20mm | 20mm Steel Overbraided Flexible Conduit | 15.5mm | 21.0mm | 55mm | 30m |
| F25-30M | 25mm | 25mm Steel Overbraided Flexible Conduit | 20.5mm | 26.5mm | 60mm | 30m |
| F32-30M | 32mm | 32mm Steel Overbraided Flexible Conduit | 26.5mm | 32.5mm | 85mm | 30m |
| F40-30M | 40mm | 40mm Steel Overbraided Flexible Conduit | 34.5mm | 42.5mm | 120mm | 30m |
| F50-25M | 50mm | 50mm Steel Overbraided Flexible Conduit | 39.5mm | 47.5mm | 160mm | 25m |
| F63-25M | 63mm | 63mm Steel Overbraided Flexible Conduit | 50.5mm | 59.0mm | 200mm | 25m |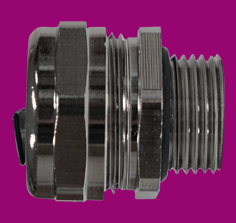 Material: Nickel Plated Brass
Temperature Range: -45°C to +105°C continuous
Construction: 4 Part Fitting (Body, Metal Ferrule, Sealing Ring & End Cap)
UL & CSA Approved Available
IP54 when used with F-Series conduit
Nickel Plated Brass Straight Fittings
| Product Code | Description | Conduit Size | Thread Size | Pack Size |
| --- | --- | --- | --- | --- |
| DF12 | 12mm Liquid-Tight Fixed Fitting | 12mm | M16 x 1.5mm | 10 |
| DF16 | 16mm Liquid-Tight Fixed Fitting | 16mm | M16 x 1.5mm | 10 |
| DF16-20 | 16mm Liquid-Tight Fixed Fitting | 16mm | M20 x 1.5mm | 10 |
| DF20 | 20mm Liquid-Tight Fixed Fitting | 20mm | M20 x 1.5mm | 10 |
| DF25 | 25mm Liquid-Tight Fixed Fitting | 25mm | M25 x 1.5mm | 10 |
| DF32 | 32mm Liquid-Tight Fixed Fitting | 32mm | M32 x 1.5mm | 5 |
| DF40 | 40mm Liquid-Tight Fixed Fitting | 40mm | M40 x 1.5mm | 2 |
| DF50 | 50mm Liquid-Tight Fixed Fitting | 50mm | M50 x 1.5mm | 2 |
| DF63 | 63mm Liquid-Tight Fixed Fitting | 63mm | M63 x 1.5mm | 2 |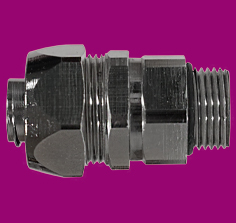 Material: Nickel Plated Brass
Temperature Range: -45°C to +105°C continuous
Construction: 4 Part Fitting (Body, Metal Ferrule, Sealing Ring & End Cap)
IP54 when used with F-Series conduit
Nickel Plated Brass Swivel Fittings
| Product Code | Description | Conduit Size | Thread Size | Pack Size |
| --- | --- | --- | --- | --- |
| DF12S | 12mm Liquid-Tight Swivel Fitting | 12mm | M16 x 1.5mm | 10 |
| DF16S | 16mm Liquid-Tight Swivel Fitting | 16mm | M16 x 1.5mm | 10 |
| DF16-20S | 16mm Liquid-Tight Swivel Fitting | 16mm | M20 x 1.5mm | 10 |
| DF20S | 20mm Liquid-Tight Swivel Fitting | 20mm | M20 x 1.5mm | 10 |
| DF25S | 25mm Liquid-Tight Swivel Fitting | 25mm | M25 x 1.5mm | 10 |
| DF32S | 32mm Liquid-Tight Swivel Fitting | 32mm | M32 x 1.5mm | 5 |
| DF40S | 40mm Liquid-Tight Swivel Fitting | 40mm | M40 x 1.5mm | 2 |
| DF50S | 50mm Liquid-Tight Swivel Fitting | 50mm | M50 x 1.5mm | 2 |
| DF63S | 63mm Liquid-Tight Swivel Fitting | 63mm | M63 x 1.5mm | 2 |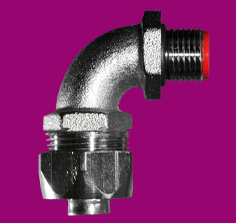 Material: Nickel Plated Brass
Temperature Range: -45°C to +105°C continuous
Construction: 4 Part Fitting (Body, Metal Ferrule, Sealing Ring & End Cap)
UL & CSA Approved Available
IP54 when used with F-Series conduit
Nickel Plated Brass 90deg Elbow Fittings
| Product Code | Description | Conduit Size | Thread Size | Pack Size |
| --- | --- | --- | --- | --- |
| DF12E90 | 12mm Liquid-Tight 90deg Elbow Fitting | 12mm | M16 x 1.5mm | 10 |
| DF16E90 | 16mm Liquid-Tight 90deg Elbow Fitting | 16mm | M16 x 1.5mm | 10 |
| DF16-20E90 | 16mm Liquid-Tight 90deg Elbow Fitting | 16mm | M20 x 1.5mm | 10 |
| DF20E90 | 20mm Liquid-Tight 90deg Elbow Fitting | 20mm | M20 x 1.5mm | 10 |
| DF25E90 | 25mm Liquid-Tight 90deg Elbow Fitting | 25mm | M25 x 1.5mm | 5 |
| DF32E90 | 32mm Liquid-Tight 90deg Elbow Fitting | 32mm | M32 x 1.5mm | 5 |
| DF40E90 | 40mm Liquid-Tight 90deg Elbow Fitting | 40mm | M40 x 1.5mm | 2 |
| DF50E90 | 50mm Liquid-Tight 90deg Elbow Fitting | 50mm | M50 x 1.5mm | 2 |
| DF63E90 | 63mm Liquid-Tight 90deg Elbow Fitting | 63mm | M63 x 1.5mm | 2 |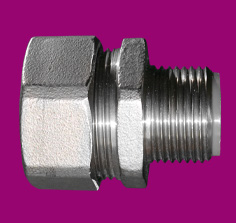 Material: Stainless Steel (316)
Temperature Range: -45°C to +105°C continuous
Construction: 4 Part Fitting (Body, Metal Ferrule, Sealing Ring & End Cap)
UL & CSA Approved Available
IP54 when used with F-Series conduit
304 Stainless Steel also available
Stainless Steel (316) Fixed Fittings
| Product Code | Description | Conduit Size | Thread Size | Pack Size |
| --- | --- | --- | --- | --- |
| DF16SS | 16mm Liquid-Tight Stainless Steel Fitting | 16mm | M16 x 1.5mm | 10 |
| DF16-20SS | 16mm Liquid-Tight Stainless Steel Fitting | 16mm | M20 x 1.5mm | 10 |
| DF20SS | 20mm Liquid-Tight Stainless Steel Fitting | 20mm | M20 x 1.5mm | 10 |
| DF25SS | 25mm Liquid-Tight Stainless Steel Fitting | 25mm | M25 x 1.5mm | 10 |
| DF32SS | 32mm Liquid-Tight Stainless Steel Fitting | 32mm | M32 x 1.5mm | 5 |
| DF40SS | 40mm Liquid-Tight Stainless Steel Fitting | 40mm | M40 x 1.5mm | 2 |
| DF50SS | 50mm Liquid-Tight Stainless Steel Fitting | 50mm | M50 x 1.5mm | 2 |
| DF63SS | 63mm Liquid-Tight Stainless Steel Fitting | 63mm | M63 x 1.5mm | 2 |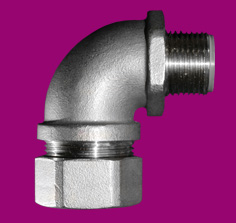 Material: Stainless Steel (316)
Temperature Range: -45°C to +105°C continuous
Construction: 4 Part Fitting (Body, Metal Ferrule, Sealing Ring & End Cap)
UL & CSA Approved Available
IP54 when used with F-Series conduit
304 Stainless Steel also available
Stainless Steel (316) 90deg Elbow Fittings
| Product Code | Description | Conduit Size | Thread Size | Pack Size |
| --- | --- | --- | --- | --- |
| DF16E90SS | 16mm Liquid-Tight Stainless Steel 90deg Elbow Fitting | 16mm | M16 x 1.5mm | 10 |
| DF16-20E90SS | 16mm Liquid-Tight Stainless Steel 90deg Elbow Fitting | 16mm | M20 x 1.5mm | 10 |
| DF20E90SS | 20mm Liquid-Tight Stainless Steel 90deg Elbow Fitting | 20mm | M20 x 1.5mm | 10 |
| DF25E90SS | 25mm Liquid-Tight Stainless Steel 90deg Elbow Fitting | 25mm | M25 x 1.5mm | 5 |
| DF32E90SS | 32mm Liquid-Tight Stainless Steel 90deg Elbow Fitting | 32mm | M32 x 1.5mm | 5 |
| DF40E90SS | 40mm Liquid-Tight Stainless Steel 90deg Elbow Fitting | 40mm | M40 x 1.5mm | 2 |
| DF50E90SS | 50mm Liquid-Tight Stainless Steel 90deg Elbow Fitting | 50mm | M50 x 1.5mm | 2 |
| DF63E90SS | 63mm Liquid-Tight Stainless Steel 90deg Elbow Fitting | 63mm | M63 x 1.5mm | 2 |