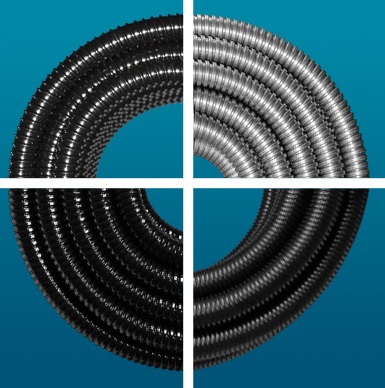 Flexible Conduit Contractor Packs
Contractor packs are the most convenient and cost effective way to purchase flexible conduit and fittings as a complete solution. With no need to purchase a full coil of conduit, we're able to supply contractor packs for all of our most popular conduits.
Below find listed our most popular contractor packs.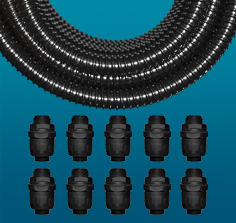 PVC Spiral Reinforced Contractor Packs
Product Code
Description/Contents
Trade Size
PA20
20mm PVC Spiral Reinforced Contractor Pack
10m x A20 Conduit + 10 x AF20DS Fittings
20mm
PA25
25mm PVC Spiral Reinforced Contractor Pack
10m x A25 Conduit + 10 x AF25DS Fittings
25mm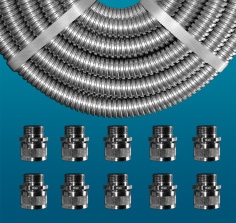 Plain Galvanised Steel Contractor Packs
Product Code
Description/Contents
Trade Size
PB20
20mm Plain Galvanised Steel Contractor Pack
10m x B20 Conduit + 10 x CF20 Fittings
20mm
PB25
25mm Plain Galvanised Steel Contractor Pack
10m x B25 Conduit + 10 x CF25 Fittings
25mm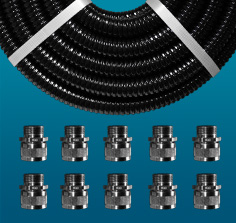 PVC Covered Steel Contractor Packs
Product Code
Description/Contents
Trade Size
PC20
20mm PVC Covered Steel Contractor Pack
10m x C20 Conduit + 10 x CF20 Fittings
20mm
PC25
25mm PVC Covered Steel Contractor Pack
10m x C25 Conduit + 10 x CF25 Fittings
25mm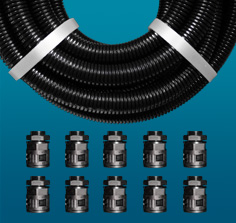 PA6 Nylon Contractor Packs
Product Code
Description/Contents
Trade Size
PH21
21mm PA6 Nylon Contractor Pack
10m x H21B Conduit + 10 x HF21B Fittings
20mm
PH28
25mm PA6 Nylon Contractor Pack
10m x H28B Conduit + 10 x HF28B Fittings
25mm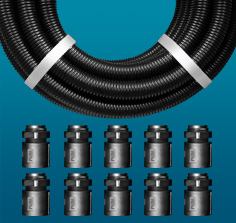 Black & White Polypropylene Contractor Packs with Hinged Fittings
Product Code
Description/Contents
Colour
Trade Size
PR16
16mm Black Polypropylene IP40 Contractor Pack
10m x R16B Conduit + 10 x RF16B Fittings
Black
16mm
PR20
20mm Black Polypropylene IP40 Contractor Pack
10m x R20B Conduit + 10 x RF20B Fittings
Black
20mm
PR20W
20mm White Polypropylene IP40 Contractor Pack
10m x R20W Conduit + 10 x RF20W Fittings
White
20mm
PR25
25mm Black Polypropylene IP40 Contractor Pack
10m x R25B Conduit + 10 x RF25B Fittings
Black
25mm
PR25W
25mm White Polypropylene IP40 Contractor Pack
10m x R25W Conduit + 10 x RF25W Fittings
White
25mm
PR32
32mm Black Polypropylene IP40 Contractor Pack
5m x R32B Conduit + 6 x RF32B Fittings
Black
32mm
PR32W
32mm White Polypropylene IP40 Contractor Pack
5m x R32W Conduit + 6 x RF32W Fittings
White
32mm
PR32-10
32mm Black Polypropylene IP40 Contractor Pack
10m x R32B Conduit + 10 x RF32B Fittings
Black
32mm
PR32-10W
32mm White Polypropylene IP40 Contractor Pack
10m x R32W Conduit + 10 x RF32W Fittings
White
32mm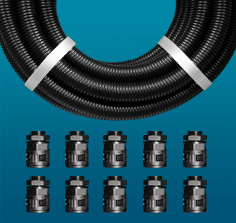 Black & White Polypropylene Contractor Packs with Push-Fit Fittings
Product Code
Description/Contents
Colour
Trade Size
PR16BH
16mm Black Polypropylene IP65 Contractor Pack
10m x R16B Conduit + 10 x HF16B Fittings
Black
16mm
PR20BH
20mm Black Polypropylene IP65 Contractor Pack
10m x R20B Conduit + 10 x RF20BPF Fittings
Black
20mm
PR20WH
20mm White Polypropylene IP65 Contractor Pack
10m x R20W Conduit + 10 x HF21W Fittings
White
20mm
PR25BH
25mm Black Polypropylene IP65 Contractor Pack
10m x R25B Conduit + 10 x RF25BPF Fittings
Black
25mm
PR25WH
25mm White Polypropylene IP65 Contractor Pack
10m x R25W Conduit + 10 x HF25W Fittings
White
25mm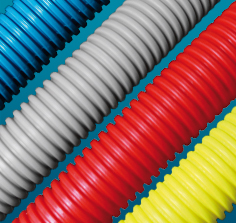 Coloured Polypropylene Contractor Packs with Hinged Fittings
Product Code
Description/Contents
Available Colours
Trade Size
PR16G
16mm Grey Polypropylene IP40 Contractor Pack
10m x R16G Conduit + 10 x RF16G Fittings
Grey only
16mm
PR20G
20mm Grey Polypropylene IP40 Contractor Pack
10m x R20G Conduit + 10 x RF20G Fittings
Blue (BE), Grey (G),
Red (R), Yellow (Y)
20mm
PR25G
25mm Grey Polypropylene IP40 Contractor Pack
10m x R25G Conduit + 10 x RF25G Fittings
Blue (BE), Grey (G),
Red (R), Yellow (Y)
25mm
PR32-10G
32mm Grey Polypropylene IP40 Contractor Pack
10m x R32G Conduit + 10 x RF32G Fittings
Blue (BE), Grey (G),
Red (R), Yellow (Y)
32mm