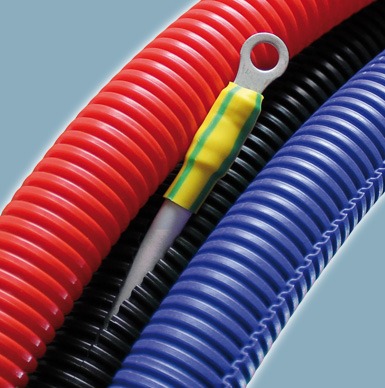 Split Polypropylene Corrugated Range
Split polypropylene corrugated conduit is a very economical solution for a variety of applications due to its high flexibility and extensive colour range. Suitable for retro-fitting into installations and environments where cables are already installed, RS-Series is typically used for underfloor wiring and general cable tidying.
Trade sizes 20, 25 and 32mm can be manufactured in any colour, often without the need for large MOQs.
Temperature Range:
Varies (see tables below)
Material:
Polypropylene
Colour:
Black (All sizes)
Colours (Varies, but 20, 25 & 32mm as standard)
LSOH:
20, 25 & 32mm manufactured from LSOH polypropylene
Self-extinguishing:
7, 10, 12 & 16mm to UL 94 HB
UV Resistant:
Black only
Product Code
Trade Size
Description
Temperature
Range
Internal Diameter
External Diameter
Coil Size
RS07B-50M
7mm
7mm Split Black Polypropylene
Corrugated Flexible Conduit
-40°C to +125°C
6.9mm
9.9mm
50m
RS10B-50M
10mm
10mm Split Black Polypropylene
Corrugated Flexible Conduit
-40°C to +125°C
8.5mm
11.6mm
50m
RS12B-50M
12mm
12mm Split Black Polypropylene
Corrugated Flexible Conduit
-40°C to +125°C
10.1mm
12.7mm
50m
RS16B-50M
16mm
16mm Split Black Polypropylene
Corrugated Flexible Conduit
-40°C to +125°C
12.9mm
15.8mm
50m
RS20B-100M
20mm
20mm Split Black Polypropylene
Corrugated Flexible Conduit
-40°C to +120°C
16.8mm
20.0mm
100m
RS25B-50M
25mm
25mm Split Black Polypropylene
Corrugated Flexible Conduit
-40°C to +120°C
19.9mm
25.0mm
50m
RS32B-50M
32mm
32mm Split Black Polypropylene
Corrugated Flexible Conduit
-40°C to +120°C
26.5mm
32.0mm
50m
RS40B-25M
40mm
40mm Split Black Polypropylene
Corrugated Flexible Conduit
-15°C to +90°C
31.0mm
40.0mm
25m
RS50B-25M
50mm
50mm Split Black Polypropylene
Corrugated Flexible Conduit
-15°C to +90°C
39.0mm
50.0mm
25m
Product Code
Trade Size
Description
Colours Available
Temperature
Range
Internal Diameter
External Diameter
Coil Size
RS20#-100M
20mm
20mm Split Coloured
Polypropylene
Blue (BE), Green (GN),
Grey (G), Orange (OR),
Red (R), White (W)
& Yellow (Y)
-40°C to +120°C
16.8mm
20.0mm
100m
RS25#-100M
25mm
25mm Split Coloured
Polypropylene
Blue (BE), Green (GN),
Grey (G), Orange (OR),
Red (R), White (W)
& Yellow (Y)
-40°C to +120°C
19.9mm
25.0mm
50m
RS32#-50M
32mm
32mm Split Coloured
Polypropylene
Blue (BE), Green (GN),
Grey (G), Orange (OR),
Red (R), White (W)
& Yellow (Y)
-40°C to +120°C
26.5mm
32.0mm
50m
RS40OR-25M
40mm
40mm Split Orange
Polypropylene
Orange (OR)
-15°C to +90°C
31.0mm
40.0mm
25m
RS50OR-25M
50mm
50mm Split Orange
Polypropylene
Orange (OR)
-15°C to +90°C
39.0mm
50.0mm
25m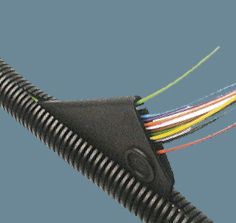 Cable Insert Tool
| Product Code | Description | Pack Size |
| --- | --- | --- |
| 9001520 | Split Conduit Plastic Cable Insert Tool | 1 |