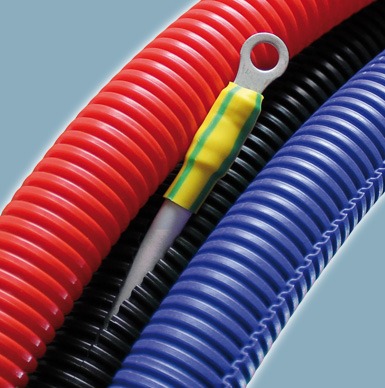 Split Polypropylene Corrugated Range
Need split conduit to protect running electrical wiring, either through your building or machinery? Brilliant – you've come to the right place.
Flex-It is a leading supplier of polypropylene split conduit and has a comprehensive range of trade sizes and colours to choose from. Be sure to take a look today and find the perfect conduit for you.
show more

Split conduit, like the RS-Series, makes for a strategic choice for those looking to encase cables – keeping them neat and tidy. Unlike a standard flexible conduit, this features a split which facilitates quick and easy cable insertion and also enables you to repair damaged conduits in minimal time.

The split conduits we supply, here at Flex-It, are made from polypropylene. Thanks to the material's high melting point, and resistance to detergents, water and acids, it's ideal for a variety of applications. These include:
Cable Assembling
Cable management and tidying
Enclosing fiberoptics
extra protection and support for existing conduits
Fast protection on loose cables
Protection for wiring looms and harnesses
Route wiring in control panels
Running wire through cabinets and machines
Underfloor wiring
We supply black polypropylene corrugated split conduit in a vast range of sizes, starting from 7mm and ranging up to 63mm. In addition to this, we can manufacture conduits from 20mm to 32mm in any colour – whether it be blue, green, grey, orange, red, white or yellow. These all have different temperature ranges, so be sure to look closely at the tables below to identify the best conduit for your application.

If you have any questions about split conduit or would like to discuss your needs in more detail, call us on 01530 812 195. Our team has unrivalled experience in this field and will be more than happy to share their expertise. You can also complete the enquiry form below, or send an email to sales@flex-it.co.uk, and we'll get back to you as soon as possible

show less
Temperature Range:
Varies (see tables below)
Material:
Polypropylene
Colour:
Black (All sizes)
Colours (Varies, but 20, 25 & 32mm as standard)
LSOH:
20, 25 & 32mm manufactured from LSOH polypropylene
Self-extinguishing:
7, 10, 12 & 16mm to UL 94 HB
UV Resistant:
Black only
Want to learn more about our RS-Series? Fill in the form below!
Product Code
Trade Size
Description
Temperature
Range
Internal Diameter
External Diameter
Coil Size
RS05B-100M
5mm
5mm Split Black Polypropylene
Corrugated Flexible Conduit
-40°C to +125°C
5.0mm
7.1mm
100m
RS07B-50M
7mm
7mm Split Black Polypropylene
Corrugated Flexible Conduit
-40°C to +125°C
6.9mm
9.9mm
50m
RS10B-50M
10mm
10mm Split Black Polypropylene
Corrugated Flexible Conduit
-40°C to +125°C
8.5mm
11.6mm
50m
RS12B-50M
12mm
12mm Split Black Polypropylene
Corrugated Flexible Conduit
-40°C to +125°C
10.1mm
12.7mm
50m
RS16B-50M
16mm
16mm Split Black Polypropylene
Corrugated Flexible Conduit
-40°C to +125°C
12.9mm
15.8mm
50m
RS20B-100M
20mm
20mm Split Black Polypropylene
Corrugated Flexible Conduit
-40°C to +120°C
16.8mm
20.0mm
100m
RS25B-50M
25mm
25mm Split Black Polypropylene
Corrugated Flexible Conduit
-40°C to +120°C
19.9mm
25.0mm
50m
RS32B-50M
32mm
32mm Split Black Polypropylene
Corrugated Flexible Conduit
-40°C to +120°C
26.5mm
32.0mm
50m
RS40B-25M
40mm
40mm Split Black Polypropylene
Corrugated Flexible Conduit
-15°C to +90°C
31.0mm
40.0mm
25m
RS50B-25M
50mm
50mm Split Black Polypropylene
Corrugated Flexible Conduit
-15°C to +90°C
39.0mm
50.0mm
25m
RS63B-10M
63mm
63mm Split Black Polypropylene
Corrugated Flexible Conduit
-15°C to +90°C
56.3mm
67.2mm
10m
Product Code
Trade Size
Description
Colours Available
Temperature
Range
Internal Diameter
External Diameter
Coil Size
RS20#-100M
20mm
20mm Split Coloured
Polypropylene
Blue (BE), Green (GN),
Grey (G), Orange (OR),
Red (R), White (W)
& Yellow (Y)
-40°C to +120°C
16.8mm
20.0mm
100m
RS25#-50M
25mm
25mm Split Coloured
Polypropylene
Blue (BE), Green (GN),
Grey (G), Orange (OR),
Red (R), White (W)
& Yellow (Y)
-40°C to +120°C
19.9mm
25.0mm
50m
RS32#-50M
32mm
32mm Split Coloured
Polypropylene
Blue (BE), Green (GN),
Grey (G), Orange (OR),
Red (R), White (W)
& Yellow (Y)
-40°C to +120°C
26.5mm
32.0mm
50m
RS40OR-25M
40mm
40mm Split Orange
Polypropylene
Orange (OR)
-15°C to +90°C
31.0mm
40.0mm
25m
RS50OR-25M
50mm
50mm Split Orange
Polypropylene
Orange (OR)
-15°C to +90°C
39.0mm
50.0mm
25m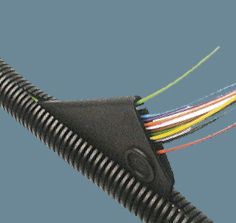 Cable Insert Tool
| Product Code | Description | Pack Size |
| --- | --- | --- |
| 9001520 | Split Conduit Plastic Cable Insert Tool | 1 |