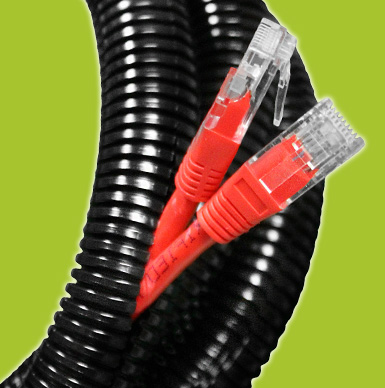 Split PA6 Nylon Corrugated Range
Manufactured from flame retardant nylon (PA6), HS-Series is a split conduit that has excellent resistance to alcohols, greases, mineral oils, kerosene, detergents, solvents and UV rays. PA6 nylon corrugated conduit is UV resistant, flame retardant and free of halogens, making it ideally suited for use in public areas where there is either poor ventilation or where public safety is of concern. It meets European guidelines regarding toxic gas emission and smoke density in case of fire and is ideal for use in train stations, train and bus building applications as well as closed areas, including: airports, tunnels, subway or underground stations and other infra-structure projects, hospitals, shopping centres, elevators, escalators and other public areas.
Split conduit is the perfect solution for protecting cables that are already installed.
Temperature Range:
-40°C to +120°C (+150°C intermittent)
Material:
Polyamide 6 (PA6) nylon
Colour:
Black
Other Information:
UV Resistant, Flame Retardant, Halogen Free, Vermin Resistant
Manufactured to BS EN 61386
| Product Code | Trade Size | Description | Internal Diameter | External Diameter | Coil Size |
| --- | --- | --- | --- | --- | --- |
| HS08B-50M | 8mm | 8mm Black Split PA6 Nylon Corrugated Flexible Conduit | 6.7mm | 10.0mm | 50m |
| HS10B-50M | 10mm | 10mm Black Split PA6 Nylon Corrugated Flexible Conduit | 8.5mm | 11.5mm | 50m |
| HS12B-50M | 12mm | 12mm Black Split PA6 Nylon Corrugated Flexible Conduit | 10.1mm | 13.2mm | 50m |
| HS16B-50M | 16mm | 16mm Black Split PA6 Nylon Corrugated Flexible Conduit | 13.0mm | 16.0mm | 50m |
| HS21B-50M | 20mm | 21mm Black Split PA6 Nylon Corrugated Flexible Conduit | 17.0mm | 21.2mm | 50m |
| HS28B-50M | 25mm | 28mm Black Split PA6 Nylon Corrugated Flexible Conduit | 23.5mm | 28.4mm | 50m |
| HS34B-25M | 32mm | 34mm Black Split PA6 Nylon Corrugated Flexible Conduit | 29.4mm | 34.5mm | 25m |
| HS42B-25M | 40mm | 42mm Black Split PA6 Nylon Corrugated Flexible Conduit | 36.7mm | 42.2mm | 25m |
| HS54B-25M | 50mm | 54mm Black Split PA6 Nylon Corrugated Flexible Conduit | 48.1mm | 54.0mm | 25m |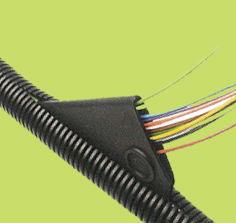 Cable Insert Tool
| Product Code | Description | Pack Size |
| --- | --- | --- |
| 9001520 | Split Conduit Plastic Cable Insert Tool | 1 |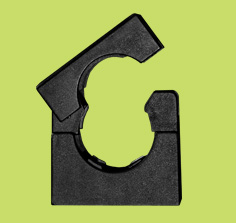 Supplied with lid
Can be used with or without lid
Nylon Conduit Clips
| Product Code | Description | Conduit Code | Fastening Hole Size | Pack Size |
| --- | --- | --- | --- | --- |
| HCC12B | 12mm Black PA6 Conduit Clip with Lid | H12B-50M | 4.0mm | 10 |
| HCC16B | 16mm Black PA6 Conduit Clip with Lid | H16B-50M | 4.5mm | 10 |
| HCC21B | 21mm Black PA6 Conduit Clip with Lid | H21B-50M | 5.5mm | 10 |
| HCC28B | 28mm Black PA6 Conduit Clip with Lid | H28B-50M | 6.5mm | 10 |
| HCC34B | 34mm Black PA6 Conduit Clip with Lid | H34B-25M | 6.5mm | 10 |
| HCC42B | 42mm Black PA6 Conduit Clip with Lid | H42B-25M | 6.5mm | 10 |
| HCC54B | 54mm Black PA6 Conduit Clip with Lid | H54B-25M | 6.5mm | 10 |