Extra Heavy Duty PVC Spiral Reinforced Range
Our extra heavy duty PVC spiral reinforced conduit offers excellent durability and crush resistance and is ideal for applications where hosing down of machinery is essential due to its smooth, wipe clean surface.
Constructed entirely from PVC, G-Series offers complete protection against corrosion and can be easily cut with a sharp knife, leaving a clean edge to work with and making installation of fittings quick and easy.
Temperature Range:
-10°C to +60°C
Material:
Thermoplastic resin with polyvinyl chloride (PVC)
Colour:
Black
Flame Resistance:
Self extinguishing within 30 seconds (UL94V0)
Ingress Protection:
IP65
Other Information:
UV Resistant
Manufactured to BS EN 61386
Want to learn more about our G-Series? Fill in the form below!
| Product Code | Trade Size | Description | Internal Diameter | External Diameter | Bending Radius | Coil Size |
| --- | --- | --- | --- | --- | --- | --- |
| G12-30M | 12mm | 12mm Extra HD PVC Spiral Reinforced Flexible Conduit | 10.0mm | 14.0mm | 50mm | 30m |
| G16-30M | 16mm | 16mm Extra HD PVC Spiral Reinforced Flexible Conduit | 12.0mm | 16.3mm | 60mm | 30m |
| G20-30M | 20mm | 20mm Extra HD PVC Spiral Reinforced Flexible Conduit | 16.0mm | 20.0mm | 80mm | 30m |
| G25-30M | 25mm | 25mm Extra HD PVC Spiral Reinforced Flexible Conduit | 22.0mm | 26.8mm | 110mm | 30m |
| G32-30M | 32mm | 32mm Extra HD PVC Spiral Reinforced Flexible Conduit | 28.0mm | 33.5mm | 140mm | 30m |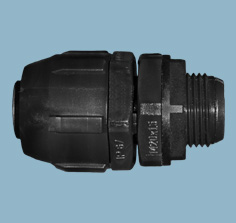 Locknuts included
2 Part Fitting (Body & Shell)
IP65
PVC Spiral Straight Fittings
| Product Code | Description | Conduit Size | Thread Size | Pack Size |
| --- | --- | --- | --- | --- |
| AF16 | 16mm PVC Straight Fitting c/w Locknut | 16mm | M16 x 1.5mm | 10 |
| AF20 | 20mm PVC Straight Fitting c/w Locknut | 20mm | M20 x 1.5mm | 10 |
| AF25 | 25mm PVC Straight Fitting c/w Locknut | 25mm | M25 x 1.5mm | 10 |
| AF32 | 32mm PVC Straight Fitting c/w Locknut | 32mm | M32 x 1.5mm | 10 |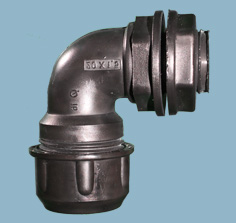 Locknuts included
3 Part Fitting (Shell, Olive, Body)
IP65
PVC Spiral 90deg Elbow Fittings
| Product Code | Description | Conduit Size | Thread Size | Pack Size |
| --- | --- | --- | --- | --- |
| AF16E | 16mm PVC 90deg Elbow Fitting c/w Locknut | 16mm | M16 x 1.5mm | 10 |
| AF20E | 20mm PVC 90deg Elbow Fitting c/w Locknut | 20mm | M20 x 1.5mm | 10 |
| AF25E | 25mm PVC 90deg Elbow Fitting c/w Locknut | 25mm | M25 x 1.5mm | 10 |
| AF32E | 32mm PVC 90deg Elbow Fitting c/w Locknut | 32mm | M32 x 1.5mm | 10 |